Player event coverage – $125 to $400

Full service coverage for one or more players for one single sports event. Details include:
$125 for 30 minutes, $225 for one hour, $400 for two hours,
Serving Fauquier County and surrounding areas.
Travel to event within a 20 mile radius of Warrenton, VA – Travel beyond this distance incurs an extra charge,
Photography of player(s) by jersey number or other identifier – Customer to provide accurate identifying information prior to start of game,
Post processing of digital images to yield an assortment for your personal use,
Private delivery of final selection of images via one of numerous electronic means.
News/Media coverage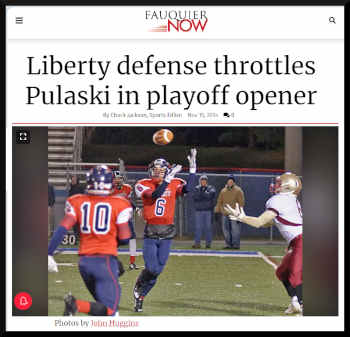 Contact us to use our photographs in your news publication or order recent images a la cart from our rights managed repository.
Football season follow your athlete – $125
Would you like a photographer to focus attention on your athlete during the Liberty High School football games we regularly attend? For one seasonal payment, we will add your player to the list of athletes we photograph on the field guaranteeing a large assortment of sports photographs in the game's online album for you to purchase. Details include:
Prioritization of our photography to the players on this list if they play.
If the athlete does not play, we will take sideline photographs of your player on a best effort basis.
Your payment may be applied towards the purchase of prints and downloads within the same season.
Currently we cover nearly every Liberty high school (Bealeton, Virginia) varsity home football games. Contact us for details on how to get on the list.