2016 Bird Bowl Keepsake Photo book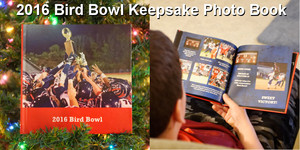 Don't pass up your chance to get your very own copy of the 2016 Bird Bowl Keepsake Photo book with over 150 pictures and commentary including play by play on the game winning drive. Price is $69 plus S/H and tax.
---
See the growing collection for the new year here.
Last chance to order Fall 2015 photos
Last chance for Fall 2015 Fauquier County sports and other photos.
---
We are covering many games both in Youth and High School sports of all ages.  Visit our photo fulfillment web site…
http://hugshots.photoreflect.com
…for the latest postings game by game.
Youth Sports Photography: Individual or Team
Don't see your game in our catalog?  Hire us to cover your child or favorite team today.
Individual – Parents can hire us to photograph their individual athlete.
Team – Parents as a group can hire us to photograph each player during a game.
HugShots is available to track your child in his/her athletics during a game, playoff or season.  We concentrate only on your child or team for that particular game and provide you with an ample selection of photographs to select.  Click here for more information.